Year 8 Football Tour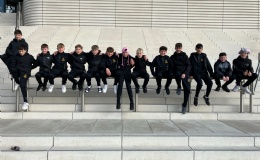 What a wonderful opportunity for Year 8 students to travel off Island to experience playing against two UK schools – Winchester College and the Pilgrims School. The students all rose to the challenge, playing their hearts out and thoroughly enjoying the whole experience.
Y8 Football Tour – Day 1
And they're off! The Y8 Football team all arrived safe and well on Thursday evening. The boys were in high spirits prior to game 1 versus Winchester College.
Y8 Football Tour - Day 2 Match Report
Winchester College Y9 - 3
Victoria College Y8 – 0
One of the aims of the tour was to challenge our talented Year 8 VCJ side against strong opposition. We knew this would be a difficult prospect.
In the glorious surrounds of the sun-drenched Hampshire countryside, the team more than matched their opponents in skill level, but perhaps not so much in terms of physicality. There was so much to learn from the experience and some great resilience shown. After the game, the boys headed back to the Tudor Club House for after match pasta before heading back to the hotel to rest up and prepare for game 2 the following day.
Y8 Football Tour - Day 3 Match Report
Victoria College 9
Pilgrim School 1
On a cold cloudy afternoon in Winchester the Victoria College team ran out convincing winners in a very one-sided match. The quality of the build-up play proved too much for our hosts and a number of boys got themselves on the score sheet: Freddie 4, JD 2, Jude 1, James 1, Ben 1.
After the match we were treated to fish and chips and cakes in the Pilgrim School refectory, a stone's throw from the magnificent Winchester cathedral next door. The boys had a brilliant time and were very much looking forward to the final day going to St Mary's to see the Saints.
Y8 Football Tour - Day 4
A great final day was had by all. It started with ten pin bowling, then a trip to the cinema, on to watch a premier league game and finally finished up at TGI Fridays for a team celebration meal.
It's fair to say the boys had a thoroughly good time on this tour and, as staff, we were really pleased with how they conducted themselves throughout the trip.