College Skiing Trip, February 2023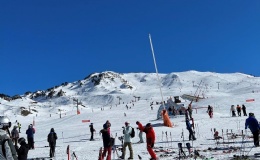 College skiing trip, Baqueira-Beret
It has been absolutely wonderful to see these trips back in the College calendar. Thank you to all staff involved with planning this adventure as well as those who accompanied the students. The students comments below, whilst still on the slopes, speak for themselves:
"I am really enjoying walking around the town and going to the supermarket because it's very different to anything in Jersey. There are a lot of cool things" - Emil
"I have really loved sitting at the very peak of the mountain. It made me feel really joyful because of how beautiful and surreal the view was" - Malo
"I really enjoyed gliding down the slopes on my snowboard. Although being a beginner meant the first time was difficult, it has progressively got better" – James
"I've really loved racing my friends down the slopes, and watching my friends do some interesting falls. I've been very happy to help them when I can!" - Theo
"As an experienced skier, it's been nice to explore a new area" - Ben
Thank you to Miss Shrimpton for journaling the trip day by day:
Day 1:
We have arrived! We got to the Hotel at 11:30am, and we were on the slopes by 2pm! Had an hour and a half lesson, and then an hour of practising down the nursery slope. Dinner was at 7:30, and very excitable but tired students were in bed by 10pm. Looking forward to today!
Day 2:
Headed up to the slopes at 9:30 for 3 hours of lessons. Lunch at 12:30 and then 2 more hours of lessons! Beginners are able to safely get down a green run (including Mr Lester), and our advanced students have been doing black diamonds!
Day 3:
More lessons in the morning and afternoon. Most of our beginners have been able to tackle a green, blue, or even a red run today! Out for dinner at a local restaurant tonight.
Day 4:
Full day of lessons, and nearly everyone is bombing it down the slope! Some of our beginners have even made it into the advanced group. Here's a clip of our beginner snowboarders absolutely crushing it today!
Day 5:
Started off with an early morning race! Students really perfected their techniques today and really pushed themselves out of their comfort zones. Happy but tired smiles all around!
And that's a wrap! The 2023 VCJ Ski Trip has come to an end.