As a learning institution, we are open to feedback and continuously improving ourselves. In January 2018, the Independent Schools' Inspectorate (ISI), the UK body that reviews independent British schools worldwide, published a report on Victoria College and Victoria College Preparatory School (VCP). The report rated student personal development as 'Excellent' at both schools. The learning and achievement was rated 'Good' at Victoria College and 'Excellent' at VCP. Read the ISI 2018 Report.
Admissions in Years 7-11
If your son is motivated to learn and achieve at the highest levels, he'll be most welcome at Victoria College. We are a selective school so admission is determined by his academic performance and record of attendance and behaviour. Each applicant sits short tests in core subjects of English and mathematics during a day when he can visit the school and start getting to know it.
We will also seek a reference and educational attainment data from his previous schools via a standard questionnaire.
The College aims to educate boys who are committed to their work and will benefit from the unique environment of our school. We look carefully at each candidate to ensure that there is a good fit and that he will feel comfortable and able to contribute to the positive learning environment at Victoria College.
Boys wishing to join Victoria College during Years 7 to 11 will be assessed using the College's own entrance procedure.
You can read more about our admissions procedures in the Admissions Policy below. For any further admissions queries, please contact Admissions Secretary, Isabelle Cunningham via email: admissions@vcj.sch.je, or call 01534 638222.
If you're ready to register your son to join us in Years 7-11, click below to complete the New Student Registration form.
Boys from Victoria College Preparatory School
Boys from our Prep school, VCP, are automatically offered a place in Year 7 at Victoria College without sitting the entrance examination provided that by the end of Year 5 they:
are consistently attaining standardised scores of 100 or greater in reading comprehension and mathematics assessments.
are consistently attaining age-related expectations in reading, writing and maths.
have demonstrated good behaviour and a positive attitude towards learning, as evidenced in their school reports, during their time at VCP.
VCP boys who are not automatically offered a place may be considered for progression to Victoria College via:
an interview with the Headmaster of Victoria College, who may admit candidates at his discretion.
achieving the requisite results on the entrance exam alongside external candidates.
Entrance Examination
To join at Year 7, boys not at VCP sit an entrance examination in the November prior to entry. Here are some sample papers for your son to practice:
Fees - Value for money secondary education in Jersey
The school fees for Victoria College are currently £2,164 per term or £6,492 per annum, increasing to £2,240 per term or £6,720 per annum, for the academic term September 2021 to July 2022. Tuition fees are paid by Direct Debit monthly. In consultation with the Board of Governors and CYPES, the fees for Victoria College and Victoria college Preparatory School are subject to an annual review each Spring Term in advance of the next academic year.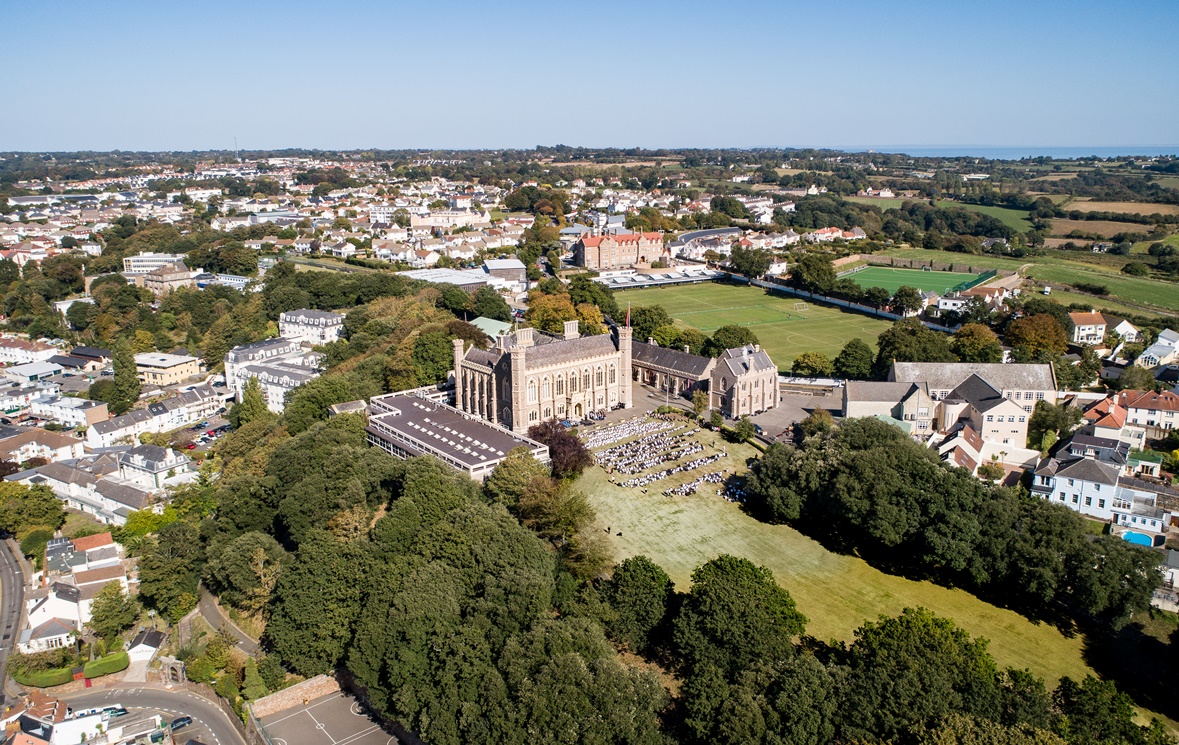 Monthly Direct Debits are deducted automatically from your nominated account on the first of each month, or the following working day if it falls on a weekend or Public Holiday.
| | | | | |
| --- | --- | --- | --- | --- |
| TERM | PAYMENT 1 | PAYMENT 2 | PAYMENT 3 | PAYMENT 4 |
| Autumn | 1 June | 1 July | 1 August | 1 September |
| Spring | 1 October | 1 November | 1 December | 1 January |
| Summer | 1 February | 1 March | 1 April | 1 May |
For all queries related to Tuition fees for either Victoria College or Victoria College Preparatory School, contact Mrs Isabelle Cunningham on fees@vcj.sch.je
As a States-owned school, we receive a grant from the States of Jersey for every student. This contribution makes a Victoria College education excellent value for money compared to similar schools in the UK.
We are passionate about making a Victoria College education accessible to all of Jersey's most able and willing boys, and can offer financial support to families. The Payment of Fees Policy can be read here.
Financial Help
We offer a range of means-tested bursaries to support students who would like to attend Victoria College but could only do so with some financial assistance. Bursaries are available specifically to help your family pay all or part of the school fees, especially if your household income is below £60,000.
For more information please read the Bursary guide.
To apply for a bursary or enquire further, please contact Emily Oldridge, Headmaster's Secretary via email: e.oldridge@vcj.sch.je, or call 01534 638217
Policies
These are our key school policies. Please contact us for other school policies or find general policies on the education section on the Government of Jersey website.
Please see the College's Policy on the determination and submission Teacher-Assessed Grades for our two examination cohorts (Years 11 and 13) in the summer of 2021.
Please see the College's Policy on the determination and submission Teacher-Assessed Grades for our two examination cohorts (Years 11 and 13) in the summer of 2021.
Parent Engagement
We know the key to a successful education is a strong partnership between parents, students and the school, so we warmly welcome both boys and their families.
We encourage parents to be involved as much as they would like and are able. Your views, time and skills can really make a difference and further strengthen the school community in a variety of ways.
join our Parent Association
offer feedback via our online surveys
become an elected parent representative on the school's Board of Governors
For more information on our Parent Association and Board of Governors, explore Our People & Community