Italy Music Tour 2023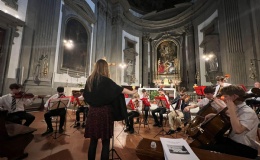 This year's music tour began in Montecatini after 24 hours of travelling! The boys woke to beautiful views across the Swiss Alps, and finished the day with some traditional Italian pasta.
Arrival Day
The first full day in Italy was spent exploring the Palazzo Pitti Gallery, walking Florence's streets, shopping, eating and performing their debut concert, which was truly excellent!
Second Concert
On the second morning, the boys visited Pisa, had lunch in Lucca, and ended the day with their second incredible concert!
The boys visited Siena on their final morning, later travelling back to Montecatini where they completed the tour with their brilliant last performance.