Victoria College Students Exceed Expectations at GCSE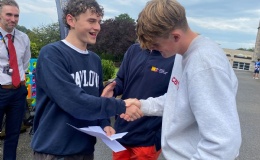 On Thursday, Year 11 Victoria College students were welcomed into the Great Hall to receive their results. Senior staff, pastoral and careers teachers were present to offer support and guidance to the boys as they finalise the next important decisions about their post-16 education and careers, as were many members of the teaching staff to celebrate the successes with the students.
With national grade tightening being widely reported this year, we are delighted that our students achieved on average over three quarters of a grade higher across all subjects compared to expectations. 25% of our students attained an average of at least a Grade 7 across their whole GCSE profile, and a quarter of all results obtained were at the very highest levels - Grades 8 or 9. 93% of grades awarded were 9 to 4 (which is the equivalent to previous A*-C grades).
Headteacher, Dr Gareth Hughes said "I am proud of our Year 11 students today as they receive their GCSE grades. Our boys have worked incredibly hard to achieve these results and displayed real resilience in overcoming a number of challenges as individuals and as a year group. Huge thanks go to the staff that guided the students brilliantly through their courses, and to our fantastic parental body that have supported so well. We look forward to welcoming many of the cohort back to join our Sixth Form, and we wish those heading off to explore new opportunities the very best for the future."
Please enter some content for your news story here.