Victoria College Students Achieve Record Results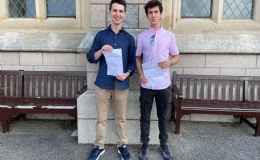 On Thursday morning, Victoria College Sixth Form students were welcomed into the Great Hall to receive their A Level and other Key Stage 5 qualification results. Senior staff and the careers team were all present to offer support and guidance to the boys as they make the next important decisions about their futures, as were many members of staff to celebrate the successes with the students.
Not including the Centre Assessed Grades of 2020-2021, we have seen our highest A*-C percentage (over 90%) and a close second highest A* (17%) percentage for over a decade. For the second year in a row, both our students holding Oxbridge offers confirmed them with straight A*s, and we were delighted to see that currently 92%of our students seeking higher education have confirmed either their first or reserve choice universities.
Headteacher, Dr Gareth Hughes said, "I am delighted for the class of 2023 who received their fantastic results today. Our students, who have overcome individual and collective challenges through their secondary education, should be rightly proud of their achievements. Exceeding last year's record A*-C percentage is especially pleasing given the widely-reported national tightening of grades this year. The strong relationship between our hard-working students, our supportive parents and our diligent and caring staff has played a pivotal part in these successes."
Our students leave Victoria College in a fantastic position for the next stages of their lives, be that in higher education, employment or other exciting future pathways. We will miss them as individuals and as a year group, we thank them for all they've done as part of the College family, and we wish them every success in the future.
Note: These results are provisional and could alter after reviews and re-sits.