Former Team GB Athlete Joins Victoria College as Lead Shooting Coach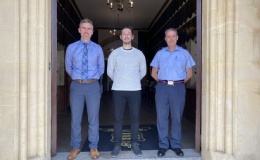 This week Victoria College extends a warm welcome to its newest staff member – Cameron Pirouet. Cameron, a former Team GB athlete and Old Victorian, joins us as our Lead Shooting Coach.

Cameron's impressive track record includes representing Jersey in the Commonwealth and Island Games, and more notably, his international representation as a key part of Team GB's world-class program. He will work with our College shooting team as well as support military shooting in the Combined Cadet Force (CCF).

Headteacher, Dr Gareth Hughes said: 'Shooting at Victoria College is a key offering within our extensive co-curricular provision. We have been very proud of our recent record in shooting competitions both on and off Island and have regular representation in the GB 'Athelings' squad. The appointment of Cameron as our dedicated Lead Shooting Coach is an exciting move that will now help widen the appeal of the sport to our student community, and also allow for those aspiring to elite level shooting to receive expert coaching.'

CCF Contingent Commander, Wing Commander Simon Blackmore said: 'We are thrilled to have such an experienced and accomplished professional and former Cadet join our team. Cameron succeeds Richard Benest who we thank wholeheartedly for his commitment and dedication to our shooting team for over 24 years, supporting hundreds of boys and latterly girls from Jersey College for Girls with achieving success at the very highest levels. Welcome aboard, Cameron. We look forward to your journey with us, and to the incredible impact we know you'll make on our College community'.

Cameron said: "I'm incredibly excited to step into the leadership role for the Victoria College shooting team. As a student, the invaluable coaching I received from Richard Benest and Mary Norman laid a strong foundation for my journey in the world of professional shooting. Their advice guided me as I progressed to be coached by some of the best in the world as part of the British Team. Now, I am eager to pass on this wealth of knowledge and a worldclass mindset to the Victoria College team, building upon the incredible work of Mary and Richard. I am keenly anticipating getting to know the team better on our Bisley trip this summer and am poised to fully implement my strategic plans come September."