New Lieutenant Governor Announced as Patron of the Victoria College Foundation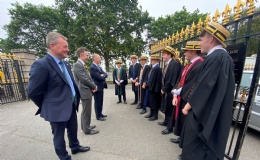 We are delighted that His Excellency Vice Admiral Jeremy Kyd CBE BSc PGDip, the Lieutenant Governor of Jersey, has accepted our invitation to be Patron of the Victoria College Foundation. He joins The Bailiff of Jersey, Sir Timothy Le Cocq KC.

On Monday 12 June we welcomed His Excellency to College for his first visit since arriving in Jersey. He met with the Chair of the Victoria College Foundation Paul Willing, Headteacher Dr Gareth Hughes, Head Boy Jack Stevens, and other members of the College community. Throughout the morning Vice Admiral Jeremy Kyd was taken on a tour of the College and was invited to sign the Visitors' Book, also signed by Queen Victoria during her visit to College in 1859 and by the late Queen Elizabeth II on her three visits in 1957, 1989 and 2001. The special visit concluded with tea in the Senior Common Room with members of the teaching and support staff.

Headteacher, Dr Gareth Hughes said 'It was lovely to host the Lieutenant-Governor of Jersey at Victoria College this week and I am delighted to welcome him as the new Patron for the Victoria College Foundation. The goal of the Foundation is to help make the education at Victoria College and Victoria College Prep, with outstanding teaching and broad range of co-curricular activities, accessible to students from all walks of life, whatever their financial situation might be.

A range of full and partial bursaries are offered, and there are aspirational plans to increase the number on offer in the years to come. In addition to a wide range of charitable endeavours in the schools, we are actively seeking new Foundation Partners from the local business community to support more students. We are diverse, welcoming schools and there should be no financial barriers to the education which we are so proud to offer.'

The Victoria College Foundation is currently supported by our wonderful Foundation Partners: Saltgate, Quilter Cheviot and Rathbones. We offer a range of exciting packages for future partnerships, with a number of benefits to companies working with us. If you are interested in finding out more, please contact foundation@vcj.sch.je.