Record-breaking GCSE results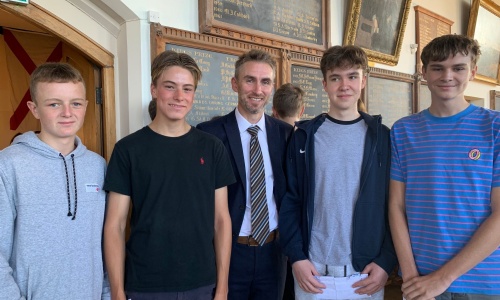 Victoria College students have achieved their best ever percentage of A* grades at GCSE. 31% of all examinations taken were awarded grades 8 to 9, which is equivalent to an A* and is a 5% improvement on last year's record results.
51% of all examinations were graded 7 to 9, which is equivalent to the old A*/A grades, and is the highest percentage achieved by our students since the new grading system was introduced. The percentage of grade 9s has also increased to 12%.
Headmaster Alun Watkins said: 'There have been some really outstanding individual results for our boys today and we are absolutely delighted for them. It means they have the strongest possible base as they move on to the next stage of their studies and can move forward to A levels with confidence. As a year group these boys have really excelled, shown huge amounts of resilience and determination during the final few months of their studies and maintained their good humour. We have really enjoyed having them as part of our school.'
A total of 94 students at Victoria College sat 961 GCSE exams across a range of subjects. Every student passed maths with a Grade 4 or above and the results for further maths were also strong with one student achieving a rare 'A hat', which puts him in the very top level of maths students in the country.
Mr Watkins added: 'These GCSE results are only achieved after a lot of hard work by the students, supported and encouraged by their parents and our teaching staff. I hope they are pleased with what they have achieved and I offer my congratulations to all. Nearly 37% of our boys have at least one Grade 9, which is something to be especially proud of.'
Grade 9 12% of exams taken
Grade 8-9 31% of exams taken
Grade 7-9 51% of exams taken
Grade 4-9 96.3% of exams taken
Pass rate 99.6% of exams taken
Note: These results are provisional and may alter after appeals and re-grades.