Year 5 learn to 'Swim Safe'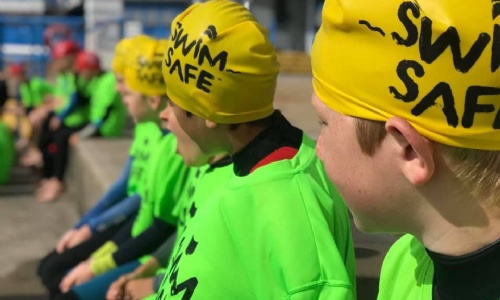 Every year, RNLI lifeguards race to the rescue of children and adults who find themselves in difficulty in and near the water.

In 2013, Swim England (the national governing body for swimming in England) and the RNLI (the charity that saves lives at sea) launched Swim Safe to help children learn how to stay safe in and around open water before they might need to be rescued.

Swim England and the RNLI work closely with Swim Wales and a range of local delivery partners to make Swim Safe available to as many children as possible, whether they live by the coast, inland and in our cities.

Since launching with a single site in 2013, Swim Safe has grown to include more than 30 sites across England, Scotland, Wales, the Channel Islands and the Isle of Man.

We'd love to run it in more locations, so please get in touch if you would like to help us deliver Swim Safe.
The boys enjoyed a fun, structured swimming session at Havre des Pas and learnt all about how to stay safe in the water and what to do if something goes wrong.
The 60-minute session was run by qualified instructors and lifeguards, and included:
Open water safety advice provided on land.
Up to 30 minutes in-water tuition with qualified instructors.
All the right kit for swimming outdoors (including swimming hats, wetsuits, and flotation equipment).