Students Show Resilience Ahead of A Level Results Day​​​​​​​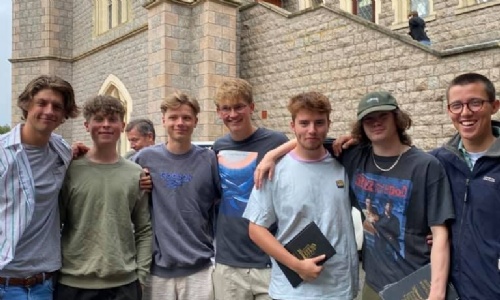 83 Victoria College students were due to sit their A levels this summer. Against all odds a total of 93.3% Year 12 and 13 students received grades between A* – C – allowing them to move onto university, higher education or straight into a career of their choice.
Students were welcomed into the Great Hall on Tuesday morning (10 August) between 9am and 12pm to receive their results. To adhere to social distancing rules, the students were asked to arrive via the outdoor staircase and follow a one-way system to collect their results.
Senior staff and careers teachers were able to offer support and guidance to the boys as their make the next important decisions about their futures.
Students' results have been determined based on a range of evidence collated over the past two years of student's study. There has been a rigorous internal process with Department Heads, Senior Teachers, the Assistant Head Academic and Headmaster, taking into account previous cohorts to determine likely progress, moderation by exam boards using their own standardisation model with a final result being produced from this assessment.
Headmaster Mr Alun Watkins said, "As I sign off as Headmaster of Victoria College, I want to congratulate our year 13 students on a truly exceptional set of A Level grades - the best in the School's long and illustrious history. Nearly 60% of all grades were awarded at the highest level of A* or A and over 90% at grades A* - C. These are fully deserved and testify to the hard work of our students who have shown great resilience and mental fortitude coping with the challenges that has been thrown at them due to the Covid pandemic.
Since the announcement that A Level examinations were to be abandoned once again this year, our students have worked incredibly hard to ensure they could achieve the highest possible grades this summer. I have to pay tribute to the teaching staff at Victoria College who have worked tirelessly in support of our students and to the parents of our boys who have been patient and positive in light of the many challenges we have faced over the last twelve months. I know that many of this cohort will be able to access the university course of their choice or realise the employment opportunity that has been presented to them.
They have been an extraordinary year group who have given so much to our school and the Island community; I wish them all success for the future and once again applaud them for such a wonderful set of A level grades".
Head of Sixth Form, Mr Alan Falle said, "The past two years have been extremely challenging for all of us, and this cohort has continued to meet those challenges head-on. During times of school closures and uncertainty, our students engaged fully in learning opportunities, which allowed them to continue to make progress where it would have been easy to switch off.
Once schools re-opened, they were therefore able to hit the ground running to complete their courses and then prepare for their final assessments. Once again, the efforts of our students have been commendable and if they can continue in this manner in the future, they will undoubtedly be successful in their chosen career.
I would like to take this final opportunity to thank and congratulate the boys for all they have done for Victoria College. Boys, whether you joined us in Year 12 from elsewhere or have been here since Jersey College Prep all those years ago, your contributions to Victoria College have been appreciated and will be remembered. We look forward to welcoming you back to the College in the near future as members of the Old Victorian Association, and hope that you keep in touch with us."
A* Grade: 28.2%
A*- A Grade: 57.6%
A* - B Grade: 81.6%
A* - C Grade: 93.3%
Pass rate: 100%
Note: These results are provisional and could alter after appeals and re-sits.