Our Prefects
In the Sixth Form, you can apply to become a Prefect. In this unique position, you are a highly visible role model for all the students in the school and will represent Victoria College. Prefects have the privilege of wearing the traditional ceremonial robes to official school events and when escorting distinguished guests.
The Prefects' main duty is to maintain an atmosphere of friendly co-operation, peace, discipline and unity in the school. They are expected to model the school values and are trusted and respected. They are often sought for input and assistance by the Senior Leadership Team to help organise and represent the student body.
Our Head Prefect (Head Boy) Ben Wiseman and our Deputy Head Boy Sammy Cooil. Sammy heads up the House Prefects:
Braithwaite: Josh Brown, Leo Olsson (House Captain) and Jared Toudic
Bruce: Aidan Boyle (House Captain) and Joshua Lawrenson
Diarmid: Dylan Kotedia (House Captain) and Sammy Cooil (Deputy Head Boy)
Dunlop: Umar Hamid (House Captain), Joshua Stuart, Aidan Stride and Oliver Wilderspin
Sartorius: Oliver Cawley (House Captain), Robbie Forrest (Sports Prefect), Patrick Gouge and Ben Wiseman (Head Boy)
Head Prefect 2019/2020 Sam Moore says
'"My journey started when I joined in Year 7 from another primary school, and when I first came here
I could not have imagined I would be Head Prefect one day."
I wrote my message at what has been the end of a very unusual year and not an outcome for my time at Victoria College that I think any of us could have predicted. However, even with the unfortunate and abrupt end to my time at College due to the Covid-19 pandemic, it has been the best of my school years and an absolute honour to serve my year at College as Head Boy.
Being a student who didn't come up through VCP I can truly say that the community of the College was exceptionally welcoming. The abundance of opportunities and activities available made it easy to transition and I have thoroughly enjoyed all the experiences provided by Victoria College.
Sport has also played a large part in my life at College, providing me with a wide range of options, each testing my abilities. Over my seven years at Victoria College I believe that there isn't a sport I haven't been able to try, even being taught all forms of football from Gaelic to Aussie rules! Taking part in the college sport teams has been a privilege, leaving me with memories of local matches and off island tournaments, such as the Surrey School Rugby Sevens tournament last year at Richmond Park where we had the opportunity to play Harrow, Kings College and Rugby School. The final sporting highlight has to be my 75km run with Mr O'Hare through the night in lockdown as part of Challenge75. I will always be grateful for his camaraderie and the endless support from teachers and pupils who came to support us throughout the ordeal, showing the true spirit of College.
The tightly-knit house system has enabled me to easily make friends and flourish as a person through the endless house events covering sporting, academic and co-curricular activities. The past couple of years have seen an impressive increase in the number of academic and non-sporting activities on offer by the College including Chess, Cooking and Scuba-diving, broadening further the experiences available. Through College I have also been able to complete my Duke of Edinburgh Gold award, take part in multiple Maths Challenges, the Chemistry Olympiad and inter-school quizzes, which have provided their own individual experiences and memories.
In between all the extra-curricular activities I have been lucky enough to experience excellent academic and pastoral support from the teachers that benefits all students, providing us with the ability to positively embrace future opportunities.
I feel extremely privileged to have been Head Boy and I have been able to utilise and build upon a wide range of skills, ranging from individual communication to teamwork, through the associated responsibilities and organisation of school events that take place throughout the year. It has been a pleasure to work alongside an amazing prefect team and brilliant staff. The strong sense of community that we all feel at this stage of Victoria College will, I am sure, keep us in close contact within the years to come and I look forward to OV events in the future too.
I encourage you all to embrace the many opportunities on offer at College as you never know how you may benefit and grow from them.
The House system
Our five Houses – Braithwaite, Bruce, Diarmid, Dunlop and Sartorius – are named after Old Victorians who served in the world wars and were honoured with the Victoria Cross for distinguished military service.
Today, the House system continues traditions that promote teamwork, leadership opportunities, competition, celebration and community. Boys from all year groups mix in the House rooms and get to know one another as they put together House teams for events.
The Housemasters are pivotal in the success of this aspect of College life. They coordinate House activities including volunteering and competitions in sport, music, drama and other areas.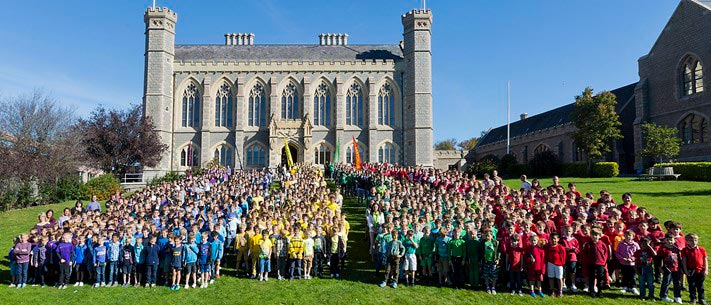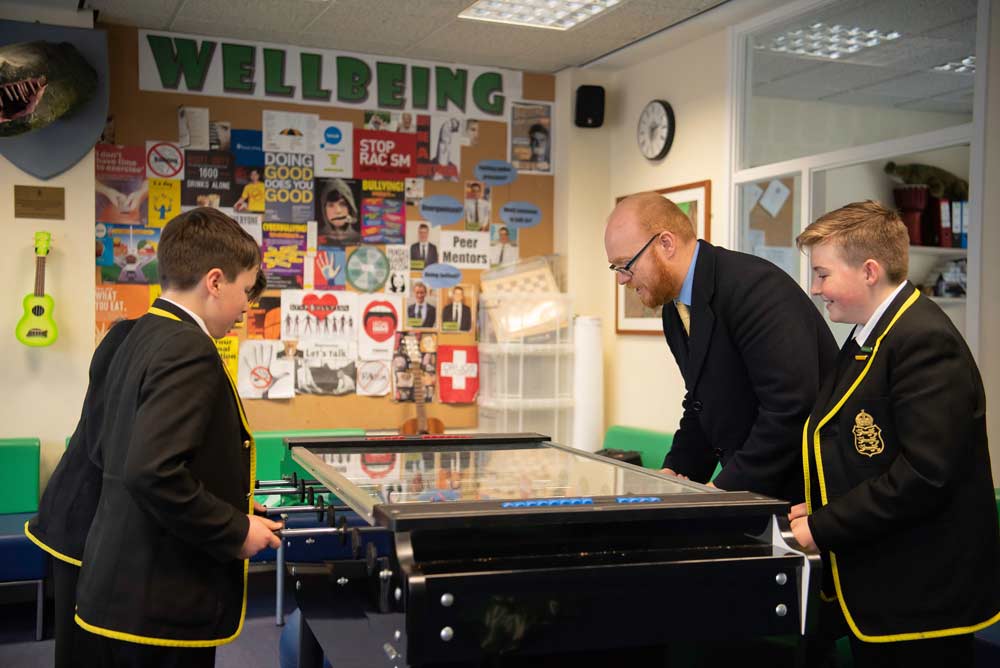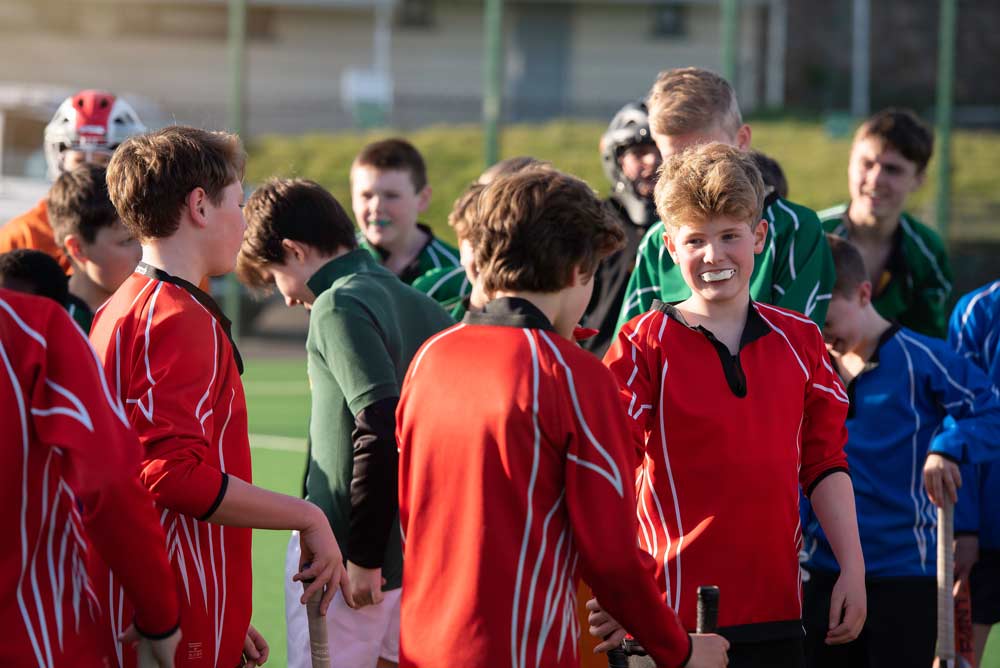 The Housemaster is responsible for:
The development of a culture of celebration and achievement
The enhancement of a House spirit and "can-do" culture
The smooth running of the weekly House Assembly
Supporting the allocation of House Tutors with the Assistant Head - Pastoral
The organisation of all House events
Attendance at and support of House events
Maintaining high standards of behaviour within the House and school
Annual House charity events
The Housemasters are:
Braithwaite: Aaron O'Hare,Tom Smith, Head of Geography
Bruce: Joe Crill, Teacher of Sport
Diarmid: Sam Habin, Second in Sports Department
Dunlop: Sam Coe, Teacher of Chemistry
Sartorius: Andy Royle, Teacher of Sport
The Tutor system
Each year group has five classes, each with a dedicated Form Tutor who monitors the academic progress, behaviour and welfare of each student. This teacher is the main point of contact for the boys in his class and sees them twice a day for registration. They are also the first and central point of contact for parents and other staff.
Student Council
We encourage our students to participate fully in their school life and community. The Student Council allows boys to have their voices heard, to explore issues and solutions and make a meaningful contribution to the development and direction of their school.
At the start of the academic year, each form group or class elects a Form Rep whose role is to represent the views of their peers at House Council meetings and Whole School Council meetings. School Council representatives also take their proposals to the Headmaster and the Senior Leadership Team, so this role provides valuable leadership experience for the boys.
Contact: Tom Fallon - School Council Coordinator
email: t.fallon@vcj.sch.je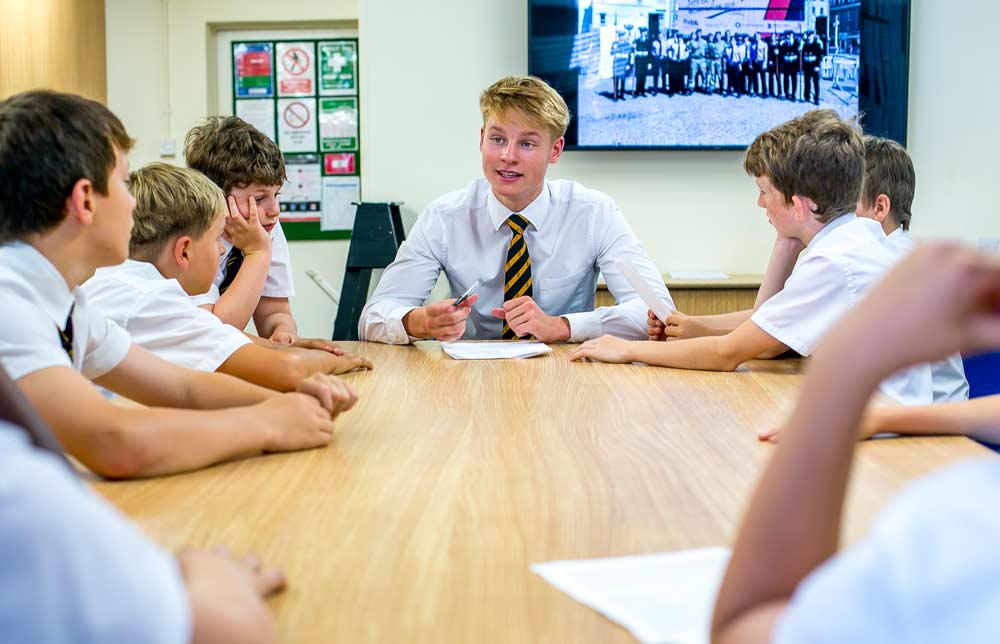 Bistro Victoria
A healthy, nutritious diet is essential for growing and active young people. Bistro Victoria provides hot and cold meals and light refreshment to the staff and students of Victoria College and our Preparatory School. Parents can pre-order meals online from a set menu, as well as purchase and pre-pay smart cards for College boys to choose and pay for their own food and drink on the day.
Flags and ties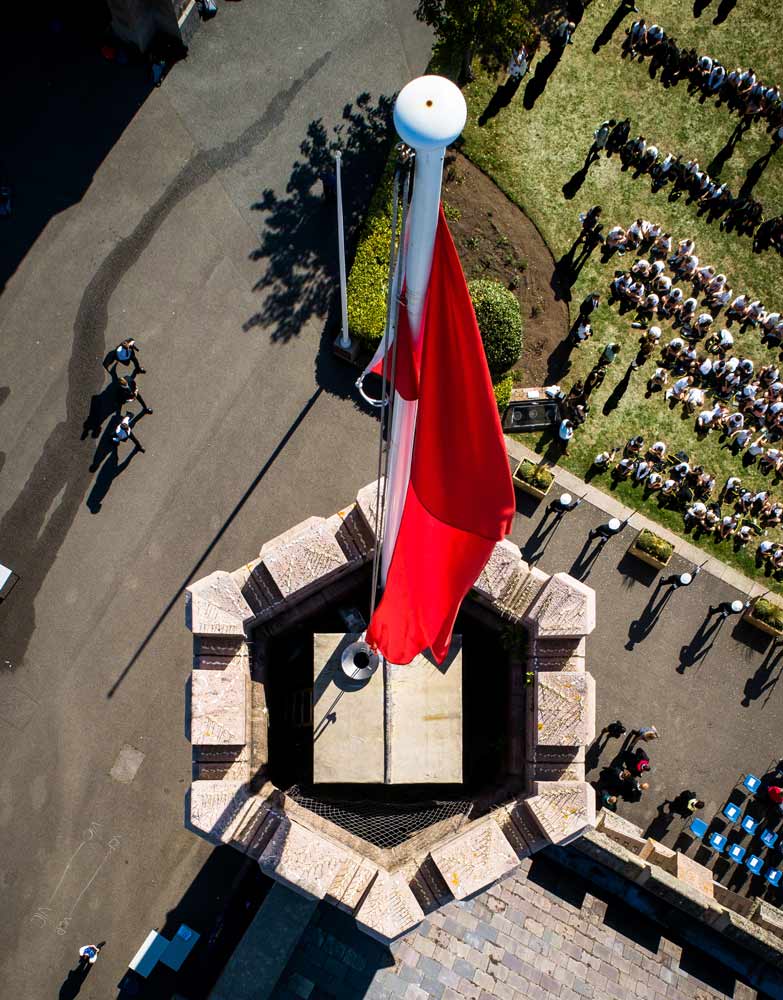 Our flags and unique ties add to the sense of community here and the spirit of healthy inter-House competition.
The House flag flying proudly on the east tower of the main College building celebrates something different and special each month:
September - Winner of the Blomfield Trophy
October - Winner of the Knight's Shield
November - Winner of House Drama
December - House that raised the most funds for their House charity during the previous academic year
January - House with the most reward points in the Autumn term
February - Leading House in the Blomfield (as at 31 January)
March - Winner of House Music
April - Winner of House Art
May - Overall winner of the Cross Country
June - Winner of the Landick Cup
July - Newly appointed Head Boy's House
August - Winner of Sports Day
Award Ties
The following ties are awarded to boys who go the extra mile and stand out in specific areas:
Ten Clubs: For students who gain 10 or more A or A* grades in their GCSE
Arts Colours: For contribution to the artistic life of the College
Music Colours: For contribution to the musical life of the College
Junior Sports Colours: For team commitment or outstanding performance in Years 7 and 8 College sport
Colts Sports Colours: For team commitment or outstanding performance in Years 9 and 10 College sport
Senior Sports Colours: For team commitment or outstanding performance in Years 11-13 College sport
Co-curricular Colours: For showing leadership, personal endeavour and work in the community, outside the curriculum or in the student's own time
Braithwaite/ Bruce/ Diarmid/ Dunlop and Sartorius Colours: For significant contribution to the life of their House in Years 11-13